Students and staff express excitement and angst about schools reopening in fall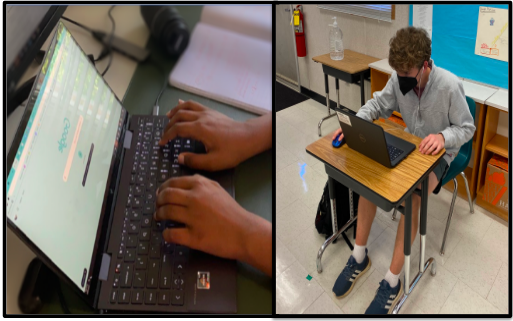 "Returning back to school in-person for five days a week will kind of make things feel normal again," said seventh-grader Brook Joseph.
Effective on July 1, it has been announced that all schools in Virginia will be returning to a full-time, in-person school year. This decision came to be from Senate Bill 1303, stating that all schools in Virginia must offer a five-day, in-person option for schooling. 
While both students and teachers have their set of worries for schools reopening, a common worry from the students was how their safety would be impacted because of their inability to get the vaccine.
This worry, however, was mainly present before the change in the teenager vaccine status was announced.
"The only problem for me is that all of the adults have the opportunity to get the vaccine right now, but that doesn't mean the kids get the vaccine," seventh-grader Zoya Ghantiwala had said.
On May 10, however, it was announced that the Pfizer vaccine was approved for ages 12-15 by the FDA. After the information was released, these viewpoints changed.
Seventh-grader Aditi Kodukula shared her new feeling of confidence with vaccines being available for teenagers.
"The news of people, ages 12-15, being able to get the vaccine is truly exciting," Aditi said. "I think school reopening might speed up slightly because we have access to vaccines now, which is a step closer to achieving a healthier reopening. 
Although RCMS staff are excited to have physical interaction with students again, there are still some concerns of safety from the teachers.
A few RCMS teachers feel that schools reopening next year should be paced carefully, with full CDC guidelines.  
Mrs. Angie Cahill, an in-person Algebra 1 Honors teacher, said, "I think it is very important for those of us that are coming back in the building to take the time to read through the safety procedures and learn them so that we can use them effectively here in the building."
Mr. William Darr, a seventh-grade AAP U.S. History teacher who is teaching virtually this year, also wished to see a reopening with CDC guidelines.
Mr. Darr said, "I would like to see a reopening that is planned specifically in accordance with what the CDC recommends."
Mr. Darr, mainly being a believer of the 'staying safe' side of the reopening, believes that the vaccine distribution has been changing people's viewpoint on daily activities.
"I think for some people, they think that once they are vaccinated, they can act normal again," Mr. Darr said. "But the truth is we still have to maintain all of these [Covid-19] protocols that we have been doing."  
Many teachers seem to agree that the RCMS staff has been working very hard in the current return back to school.
"We don't have any slacker teachers at Carson," said seventh-grade history teacher Ms. Jennifer Masood. "Everybody wants to put together the most amazing and engaging lessons for students." 
Seventh-grade English teacher Ms. Amy Allen said that because of this hard work, students have been guided well throughout the different school year.
 "Rachel Carson has done a good job with keeping tabs on students and making sure students are taken care of," Ms. Allen said.
A consistent schedule in schools is something that seems to be on the minds of Rachel Carson teachers. 
"My hope is that [the school schedule] stays consistent, and that we don't change it a lot, because that is where the confusion kicks in," Ms. Allen said.
Although the virtual students have not had much experience being in school, they have come to the conclusion that RCMS has taken the necessary safety precautions to create a safe school.
"I think the way we are going right now, slowly and gradually, will be a lot safer and will tell the school how we should continue to run things," said Aditi.
Zoya, who also believes that the reopening should not be rushed and should be done carefully, has strong feelings about staff members and students paying attention to their hygiene practices during the reopening.
She said everyone should "keep washing your hands and remembering all the things you were told to do when [the pandemic] first started."
Eighth-grader Justice Hunter also believes that Rachel Carson has done a great job with Covid-19 safety, but worries that some students will not take Covid-19 seriously once they are back in the building. 
"I look on my Snap and Insta, and see people hanging out in big clusters… without masks… that's the stuff that makes me nervous," said Justice.
Seventh-grader Aarna Bhamidipati's main concern was how Rachel Carson would be able to reopen with such a large middle school population.
"I'm just really concerned about how people are going to be able to maintain the same health guidelines when everyone is going to be returning for five days of full in-person learning," said Aarna.
Even with all of the concern and fears about next year's learning change, students are also excited about schools reopening.
As Aarna stated, "FCPS is pretty large, Carson is pretty large, it just kind of felt like they were rushing back into it, but I still am pretty excited."
Yet, with all of the concerns about FCPS returning to in-person learning for five days a week, students still see going back to school as a strand of hope and as a necessity.
"I think," said seventh-grader Raghav Kasi, "that going in-person to school would be much needed because taking school from a laptop isn't the same."